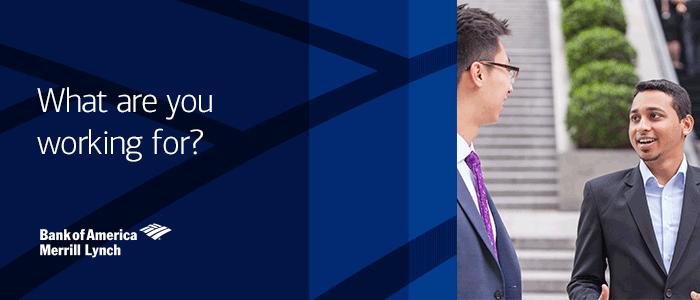 Our culture
Bank of America Merrill Lynch
---
Our culture
Our purpose is to make financial lives better for our customers, clients and communities by connecting them to the resources they need to be successful. That starts with our employees. The diversity of our employees— in thought, style, sexual orientation, gender identity, race, ethnicity, culture and experience—makes us stronger, and is essential to our ability to fulfill our purpose and achieve our business strategy of responsible growth.
Diversity & Inclusion
Diversity and inclusion are part of our values. Our workforce is based in more than 35 countries, and with that comes an amazing diversity in thought, style, sexual orientation, gender identity, ethnicity, culture and experience. 
Our Employee Networks give employees the opportunity to connect to develop leadership skills, build strong ties with their communities, and bring lasting value to our business. Our 12 employee networks have more than 70,000 memberships around the world.
Community engagement
We extend more than $180 million in philanthropic investments and our employees donate nearly 2 million hours of volunteer service to the causes they care about around the world. From mentoring young people to building affordable housing, all our employees are encouraged to get involved in improving their communities.
Environmental sustainability
We have made one of the largest business commitments to address climate change in the industry - US$125 billion in total. We're not just providing financial capital to accelerate the transition to low-carbon, we're also providing intellectual capital and promoting financial innovation.
Social impact and economic development
We seek to make the financial lives of our customers, clients, shareholders and communities better. We invest in economic development projects to help revitalize neighborhoods by creating jobs, and building or renovating buildings, land and infrastructure.
Arts & Culture
Our support of non-profit art institutions helps to inspire, educate and drive healthier economic communities. We provide grants and sponsorships to thousands of organizations, loaning our art collection to museums around the world, and offering our clients, customers and employees free and discounted access to hundreds of popular cultural institutions.
Client Facing World